What's the one thing you regret doing for your wedding day?
Posted by Fun DMC on August 3rd 2018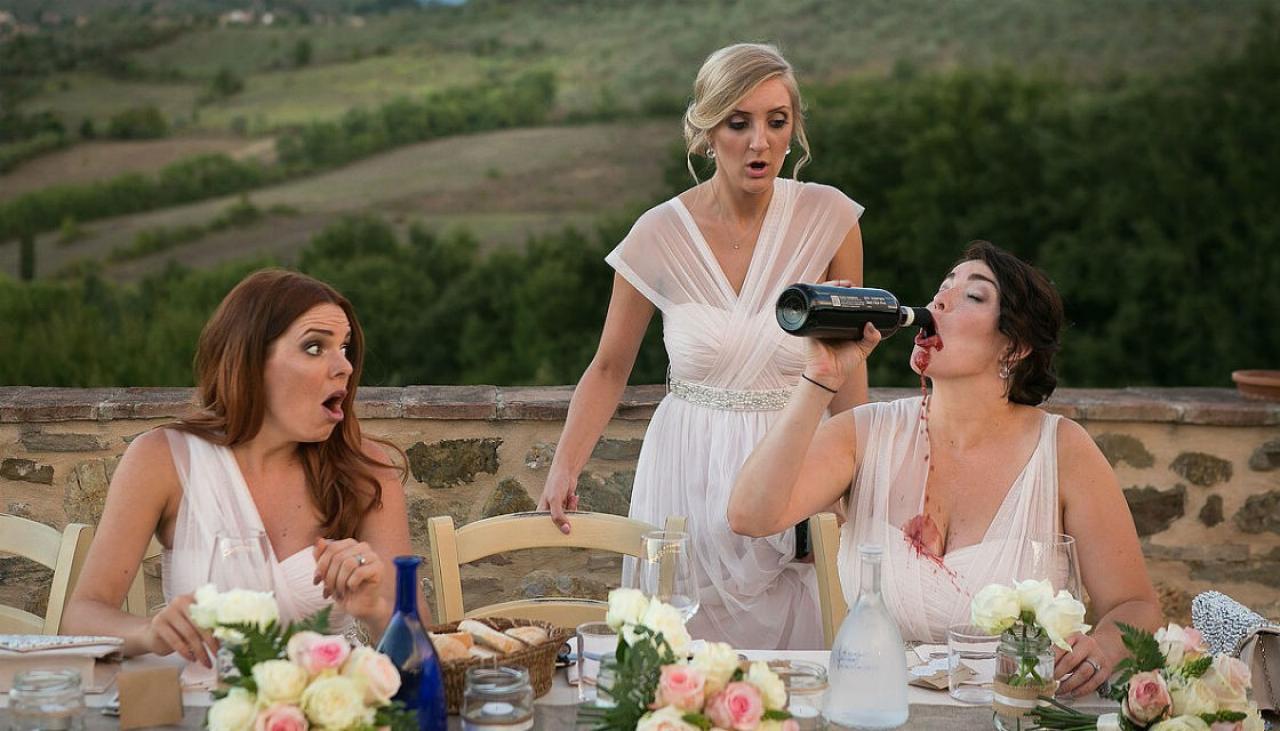 No matter how meticulously planned a wedding is, there's always going to be times when you look back and wish you would have changed an element of it.  Even if every single guest didn't notice anything amiss, it's easy to dwell on the "coulda-woulda-shoulda" of your event.  Personally, I wish we had hired a videographer to cover the ceremony.  Our guitarist and his wife have mentioned many times throughout the years that they didn't get to eat dinner at their reception.  Things could always be better or they could always be worse.  But don't let this and the stories below scare you – good planning and communication with your vendors and coordinators can make all the difference in not being a part of this list!
What's the one thing you regret doing for your wedding day?
Not preparing a speech. I thought I'd just go up, thank everyone for coming and sit back down. Short and sweet, get it out the way. That's exactly what I did, without mentioning my parents or my wife.
Inviting 75% of the people. Most of them I never see and are not involved in our lives. Would have rather spent the same amount of money on 25% of the people and had one hell of a high-end party.
Not paying attention to the photographer more. We gave him a list of things he needed to shoot for portraits, and he forgot to get a picture of me, my wife, and my parents…
I regret the coordinator they gave us for the ceremony.

Dude got flustered and started second guessing everything right before the ceremony. Like he somehow forgot how a wedding works at the last moment, when all of our guest where there. "OMG what song do you want to play while she walks down the aisle!" I dunno dude, the one everyone walks down the aisle to. The wedding song. The one we already told you to play.

I ended up taking charge and sorting everything out. Really wish I could have just gone with the flow on my big day.

Having an outdoor wedding in August in South Carolina. Timing necessitated it. Otherwise I loved my wedding and love my wife.
Not paying for a cleaning company at my venue me, my wife and wedding party had to still 2 hours later to clean up to get our deposit back.
Not hiring a photographer. We thought we'd save money and just ask friends to take lots of pictures. They took some but I have maybe 5 pictures worth looking at. No pictures of the cake or table settings. I kind of remember what they look like. The only decent pic of my husband and I has our flower girl in it. She's sweet and I love her, but it looks like she's our kid. Every time people see the photo they're like "I didn't know you had an older child…" Hire a photographer people!
Forgetting my pretty new wedding ring in the bathroom before leaving to the reception dinner an hour away. I didn't realize it until we were nearly there, turned back to get it, and then were extremely late to dinner. Oops!
Not hiring an Elvis impersonator. Flew all the way to Vegas to get married, didn't get Elvis. Oh well.
Paper invitations and RSVPs. Set up a wedding site and have people RSVP there. The amount of stress I put myself through trying to get paper mailed back to me in an era when no one uses mail anymore was so unnecessary. At one point we'd gotten very few RSVPs back and I had a total crying meltdown about how no one was going to come. Of course they were going to come, it's just no one uses mail anymore. Save yourself the headache and the money. It's my biggest wedding regret.
Not having our grandmas as flower girls. We didn't have anyone to be flower girls, and I didn't think of asking grandmas until way after the wedding.
My DJ had YouTube ads in between songs.
Not having a good breakfast.

We got married early in the day on a beach and all i could think about was how much i wanted a breakfast sandwich with eggs, cheese, and bacon on a toasted english muffin with just a touch of hot sauce!
My number one regret is telling people not to take pictures. I know it sounds dumb but it is much worse than that. In our agreement with our photographer she told us that other cameras were not allowed as the flash from another camera could ruin our pictures. So we politely told people to refrain from taking pictures and explained the situation. We had a great wedding and the photographer even sent an extra photographer to work the wedding (2 instead of 1). A few weeks after we tried contacting her for the photos. We got ghosted. We tried for about a year to track her down. We were still willing to pay for the photos, even unedited. We just wanted the photos. Fortunately some people didn't get the message so we have a few (10-20) photos from our wedding. The worst part was that someone had contacted my wife through FB two weeks before the wedding warning us about her but we decided to take the risk because there probably was no way to get another photographer in that kind of time. When she showed for the date we were relieved and thought we dodged a bullet.
Not delegating enough – I planned/organized our wedding, handmade all my invites, bought super cheap materials from China and hand crafted decorations etc., even went to flower markets the day before and put together all my bouquets and flowers for reception – all that was fine, but on the day I wish I had delegated some more jobs to the bridal party – I did go thru the schedule for the day with them and asked could they help out and keep an eye on proceedings and help direct any guests etc. (we only had 50 guests anyway so small affair) edit: I guess I should have given more explicit instructions to specific people, maybe.

But on the day I was still corralling people for photos, using my teacher voice to let people know where to go next etc., and our tea ceremony got delayed for 30mins cuz various family members wandered off and didn't show up on time, and I, the bride was madly rushing through the hotel and surroundings looking for them (and it didn't even occur to me at that moment that I should have asked my bridesmaids (my cousin and my SIL) to go look for them instead lol they were just sitting at the tea ceremony area).

It wasn't until the next day my mum told me that she loved the wedding but she wished my bridesmaids had helped me out a bit at all that I realized I had still been directing everything the day before and that it was very tiring!!
I really wish we had the ceremony video taped. We spent a decent chuck of money on the photographer, and our photos look great! We didn't think we wanted a video at the time, but a year and change later I really wish we did.
So the one thing I'm wicked glad we did and always advise people to do is take a moment to enjoy it. After we ate and went around saying hi to all the tables we took like 5 minutes, while everyone else was finishing dinner, and went and sat outside. It may have been brief but it really allowed us to appreciate what was going on and enjoy each other for a second