Peoria Marriott Pere Marquette and The Curve Inn
Posted by Robert Reynolds on September 6th 2018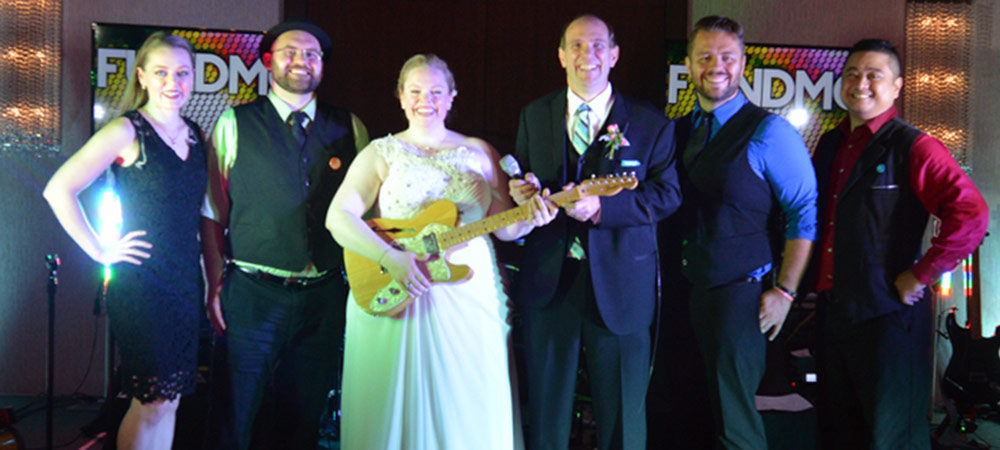 In 2018 a crack entertainment unit was sent to the Peoria Marriott Pere Marquette at a client's request for a wedding reception, ceremony, and cocktail hour. This team promptly set up three sound systems, unveiled a brand new monogram projector, and dined on one of the finest salads ever served at a wedding reception. Today, still wanted by brides across the tri-state area, they survive as soldiers of fortune. If you have a problem, if no one else can help, and if you can find them, maybe you can hire Fun DMC.
"I love it when a plan comes together." The signature line from John "Hannibal" Smith of the A-Team rings true in the entertainment industry just as much as the mercenary scene. I first spoke with Gretchen and Ryan about their 2018 wedding back in December of 2017 when I was walking into a show at the Black Sheep Cafe. Over the last 10 months we have gone back and forth on the details of their wedding over email and several phone calls. In addition to wedding reception entertainment the band was called upon to provide a sound system for the wedding ceremony as well as a cocktail hour, all three elements held in different locations at the Peoria Marriott Pere Marquette. The band also provided a custom monogram projected on the LaSalle Grand Ballroom wall above the stage for the event. The Anderson wedding reception was easily one of the most fun wedding events that the band has played this year, particularly the LED light up dance floor provided Peoria rental company Fun On The Run. We were treated very well by the couple and were even provided with our own private green room.
The next night found Fun DMC returning to our home court at The Curve Inn for our second consecutive Labor Day Sunday show during the Springfield Mile. It was easily one of the most excited crowds we've ever played to at The Curve. One patron even told us that she drove 5 hours to see us after having a blast at last year's show. She even brought along her Polaroid picture from 2017. We made sure she took home an updated pic. At some point an 8 year old girl hula hooped her way to the stage and about five other patrons made their way to the bar top to dance the night away. These are the snap shots of the evening how I experienced them.
Anyway, after the show the band stopped by Smokey bones for a post show dinner where we talked about religion for about 90 minutes and still emerged from the dining room as friends. Imagine that.
This Saturday night we are at the first annual Fun Fest in Downtown Springfield.