Fun DMC: A Musical Journey featuring Katey Kamerad
Posted by Katey Kamerad on January 5th 2017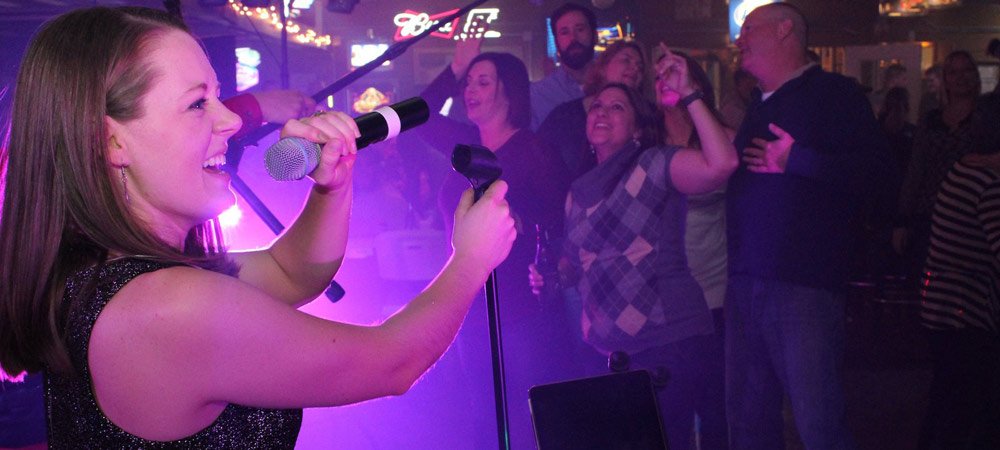 Fun DMC is made up of a diverse group of musicians who cover a wide array of artists. The remarkable thing about this band is that you can take five different personalities with five very different musical backgrounds and channel that energy into a single idea. On stage we are one unit, bringing you the best in mashups and medleys. However, each member still retains their individual personalities and influences and that often surfaces during each performance. With that said, this is another installment of Fun DMC: A Musical Journey.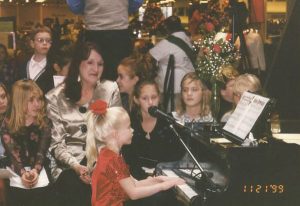 Music has always been a part of my life. My mother will tell you that I was singing before I was talking, always babbling away melodically and bouncing to whatever beat was happening around me. Most of my memories of holidays, birthdays, family gatherings, or trips/vacations involve family members singing in harmony around a sink, writing new song lyrics on the spot, or gathering around a piano to play and sing favorite songs. I had the most musical childhood. My grandmother took me to music classes for little ones, my mother sat me on her lap at the piano, and my dad always sang the silliest songs.
I picked up a guitar for the first time when I was 5 and started learning to read music. I refused to let my mom teach me piano but instead took the skills I was learning in my guitar lessons and applied them to piano, asking mom an occasional question or two along the way. The first two pieces I wanted to learn on the piano were "Fur Elise" and "Can You Feel the Love Tonight", and not the big note, easy versions. I worked on those songs for years and learned to play piano by practicing them songs. I played through regular lesson books for fun, sight-reading practice and pushed myself to learn the songs I loved.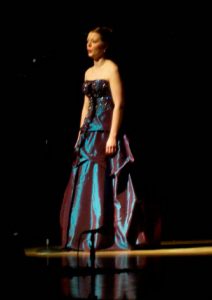 It became clear very quickly that my favorite thing to do, musically, was to sing and perform. There are dozens of home videos buried somewhere in my parents' basement that highlight some of my early original songs and overall love for singing. I set down my guitar and started voice lessons at the age of 10, where my love for classical voice and musical theatre grew by leaps and bounds. I spent most of my jr. high and high school years learning show tunes, performing in talent shows, participating in every choir I could be involved in, and rehearsing for musicals, plays, and performances.
My exposure to most popular music was fairly limited until high school. I spent a large chunk of my childhood with my grandparents where I discovered my love for hymns, folk standards, and jazz. With my parents, I learned to love their favorite music including their favorites from the 60's, 70's, & 80's. If a cassette wasn't playing, then the oldies station was blaring. My first interest in pop music happened when I was forced to make the choice between N'Sync & Backstreet Boys (because as a 3rd or 4th grade girl you absolutely were not allowed to be indifferent or to choose both). I still have my N'Sync and Brittany Spears Cd's hidden away in my house and absolutely know every single word.
I've always loved listening to a wide variety of music. In high school I spent a lot of time listening to Frank Sinatra, big band/swing music, and a lot of musicals. I even spent time taking swing dancing lessons with friends on the weekends and sewed my own swing style dress for my Sophomore homecoming. Other bands/artists that I frequently listened to (and still do listen to regularly) include Elton John, Billy Joel, Jack Johnson, Death Cab for Cutie, My Chemical Romance, Iron and Wine, Something Corporate, and the Bouncing Souls. I also spent time exploring a lot of the local punk and ska music with my best friend by going to as many shows as we could and going to Warped Tour.
My love for people, helping others, and making music all came into perfect alignment when I left for college. After 4 long years as a music major, I am now a board-certified music therapist. My college years were filled with classical voice repertoire, music theory classes, technique courses, music history classes, choir performances, and loads upon loads of music therapy specific classes. My career in music therapy has forced me to have an appreciation for nearly every kind of music as well as people of all ages and abilities.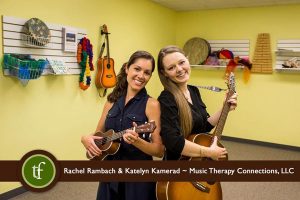 After completing my degree, I moved to central Illinois (where there were NO MUSIC THERAPY JOBS) in order to be with my now husband, Chad. That meant going out and starting a company of my own. After almost 5 years, my little company (On A Good Note) has transformed into a beautiful partnership with Rachel Rambach, forming Music Therapy Connections, LLC where we now have a team of 8 lesson instructors and therapists working every week throughout the Springfield area and in our own studios.
If you ask me what has been the most surprising or interesting thing I've done in my adult life/musical career, it wouldn't be starting my own company, moving to a new city, buying two homes, becoming a landlord, writing/recording dozens of children's songs, almost buying out another company, starting a podcast, selling my original content online, or becoming a boss for several people. Nope. It would be joining a band. Being in a band of any kind was never on my radar. As someone who sang almost solely classical or musical theatre repertoire, performing pop/rock/dance music was never something I planned on doing at any point in my life.
However, I'm so glad that this experience is part of my reality. Becoming a member of Fun DMC has been one of the most rewarding, eye opening, and influential experiences of my musical career. I have grown so much as a performer and person over the past few years with these guys. When the opportunity to be a full-time member came about, I was hesitant because of everything else I am currently committed to; I wanted to give the guys of Fun DMC my best. It was no question that Fun DMC had to remain a part of my life after a discussion with my husband where he said, "They are amazing people and it makes you so happy to perform. I can see it. You light up. You need this".