Animated Custom Monogram Lighting
Posted by Fun DMC on September 8th 2018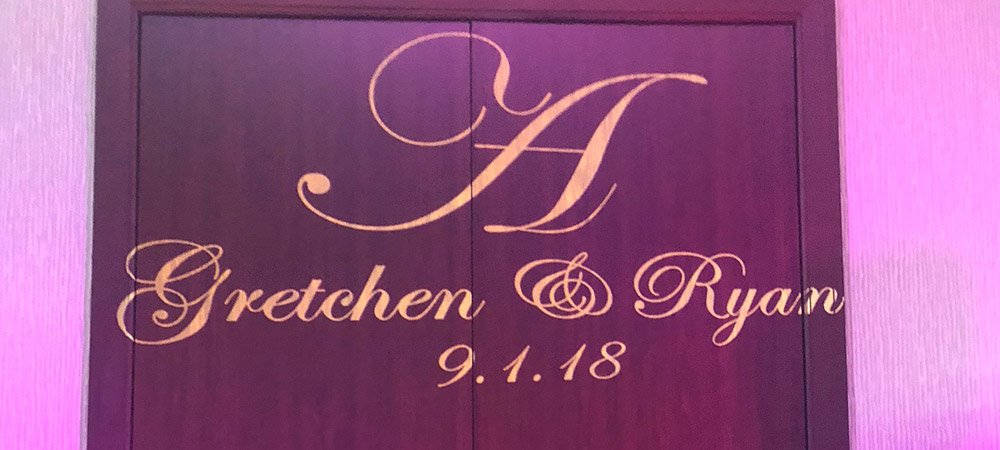 Last weekend, Fun DMC wrapped up another appearance at our favorite bridal show, The Elegant Bridal Expo.  This is always a great show for us and we love getting to meet newly engaged and excited couples who are at various stages of their wedding planning.
One of the biggest selling points for booking Fun DMC for a wedding is that we consider ourselves "one-stop shopping" for a reception.  We have the capabilities to offer more than just a live band to an event.  Need ceremony sound or performers?  We can do it.  Need an officiant?  We have a licensed minister in the group.  Emcee service, DJ service, photo booths, uplighting, and more – you name it, we have it in our catalog, and if not we can get it for you for a much, much more affordable price than you would piecemealing everything out.  We even made a video about it a few weeks ago!
One of the more exciting new toys we have is animated custom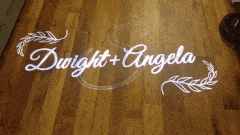 monogram lighting.  We've been offering monogram lighting for over a year now, but thanks to some research and equipment investment, we have been able to take it to the next level.  A monogram light beamed above a head table or onto the dance floor is a beautiful accent to a room and has become as much of a staple at receptions as uplights.
The difference with our setup is that we can offer an animation element to it, adding subtle effects such as stars, snowflakes, or bubbles, or even being able to do flashier entrances, exits, or movement.
Another important feature is that it's all custom.  We're not using stock designs or effects – we're creating your monogram from scratch, guaranteeing that yours will be unique to your reception.  Beyond that, Fun DMC is currently the only group in Central Illinois using animated monogram lighting.
But the best part?  Our system allows us to do these custom monogram lights at a fraction of the cost that other vendors charge.  That means we only charge $150 for an animated custom monogram light, all-in.  That's no extra costs and no hidden charges.
It's just one of the many opportunities to save big when you book Fun DMC for your wedding.  Contact us today if you have questions about monogram lighting or if you're interested in seeing what Fun DMC can bring to your special day.