A Wedding Themed Weekend
Posted by Fun DMC on August 12th 2019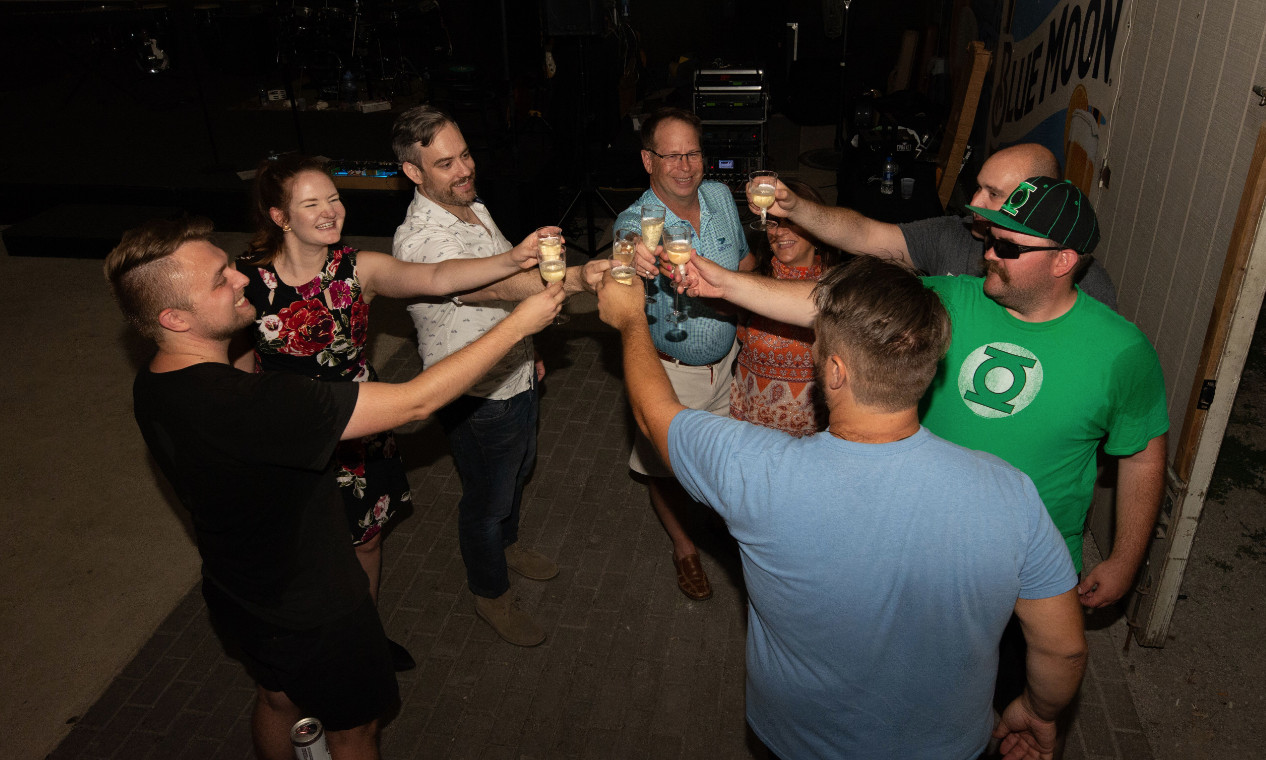 Last Friday afternoon, Fun DMC headed to the Blue Grouch Pub in Springfield, IL, for an evening of music in their beer garden. We rocked a few newer tunes along with some crowd favorites and enjoyed seeing some familiar faces out in the audience. What made Friday extra special was that we had two recently engaged couples in the crowd. BOTH of which have invited Fun DMC to play at their wedding reception. We smiled, danced, popped a bottle of champaign, and shared a "cheers!" to their bliss!
Saturday morning, the band loaded up in big red (The Vanilla Gorilla Talon Homles' Jeep) and made our way to Champaign, Illinois, for Ross & Paige Workman's wedding at The Refinery. Throughout setup, Fun DMC had the opportunity to watch the space, typically used for group fitness, spin, and Zumba classes, transform into two separate and stunning ceremony and reception locations.
Fun DMC had the pleasure of providing sound and music for Paige & Ross' ceremony. With our speakers (and selves) discreetly hidden, we witnessed the Workman's entire 5-minute ceremony. (check out our instagram "weddings" highlight to witness that special "you may kiss the bride moment")
While the wonderful Ariel Dilworth of Photos by Ariel whisked the newlyweds away for a few final pictures, Fun DMC get the reception started with some jazz-style pop tunes. As family and friends made their way into the reception, it was clear we were in for a great night!
Truly, Fun DMC enjoyed every moment of the Workman wedding! However, if we had to pick one of the absolute highlights of the night, it would be when Paige got on stage during our infamous "Rap Medley 2" and sang EVERY WORD of "Shoop". We later found out that "Shoop" just happened to be the song Paige rapped the night she and Ross fell in love!!! <3 We are so grateful we were able to be a part of that moment!
After wrapping up at the Workman wedding, several members of Fun DMC drove through the night to Peoria, Illinois, where we checked into the Par-a-Dice Hotel and quickly crashed. The morning came all too quickly and we were at it again, fueled solely by coffee and the entrepreneurial spirit. By 11:30, brides were lined up waiting for the doors to open at The Elegant Bridal Expo.
Sunday evening, Fun DMC finally returned home. We loved every bit of our wedding filled weekend are are geared up for an awesome week at the Illinois State Fair! See you at the Miller Lite & Coors Light tents this week!