The Winkeler Wedding and Audrey's Birthday
Posted by Robert Reynolds on July 18th 2018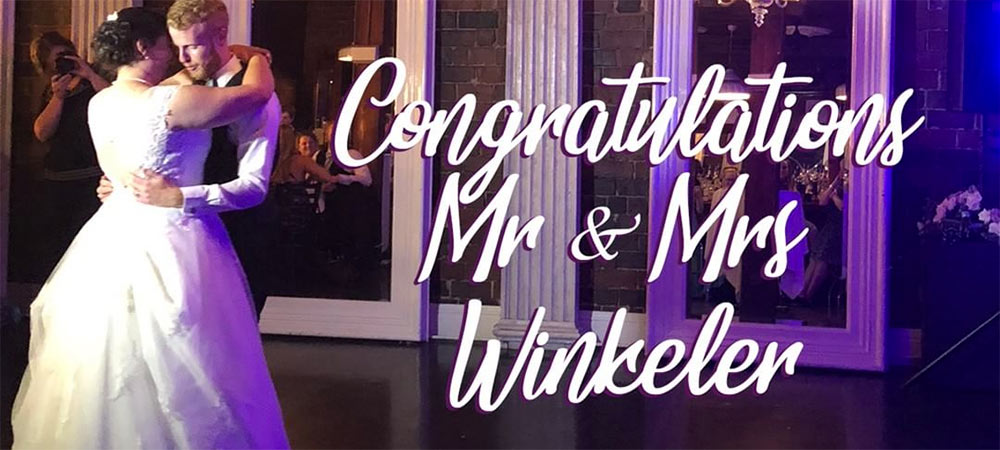 Well, after a week spent leading music at Lake Springfield Baptist Camp for almost 100 Jr. High students, the band made their way downtown to the historic Arlington's (previously Broadway in another lifetime) for the wedding of Mr. and Mrs. Greg and Rachel Winkeler. In addition to providing entertainment for the reception the band also provided production for the wedding ceremony on site. The event was a very intimate yet classy affair with a family style dinner provided by the good staff at Arlington's. The band enjoyed dinner together in the downstairs dining room where, believe it or not, our 16th President of the United States stopped by for a quick photo op with the Mashup Mavericks of Springfield. The salmon and house cranberry walnut dressing was just succulent and a five star experience for all members.
Sunday morning the camp members of the band arrived at Central Baptist Church for a recap of the week's music at LSBC followed by setting up and performing at my daughter's birthday party for 10 of her friends and their parents. The party was superhero themed and I can't thank the members of Fun DMC enough for their contribution to her perfect day. This past year she has started to love to listen to the same music her dad listens to and has latched on to Just Like Heaven" by The Cure. When the band surprised her with this song her face, though very focused on her current hula hoop situation, just lit up. I am forever in their debt for such a special moment.
This Friday we are in Hudson, Illinois for the Association Of Horizon camp event followed by the Chatham Sweet Corn Festival and Downtown Bike Night on Saturday. Plenty of opportunities to stop out and see your favorite mashup band.