The Illinois State Fair and First Christian Church
Posted by Robert Reynolds on August 22nd 2018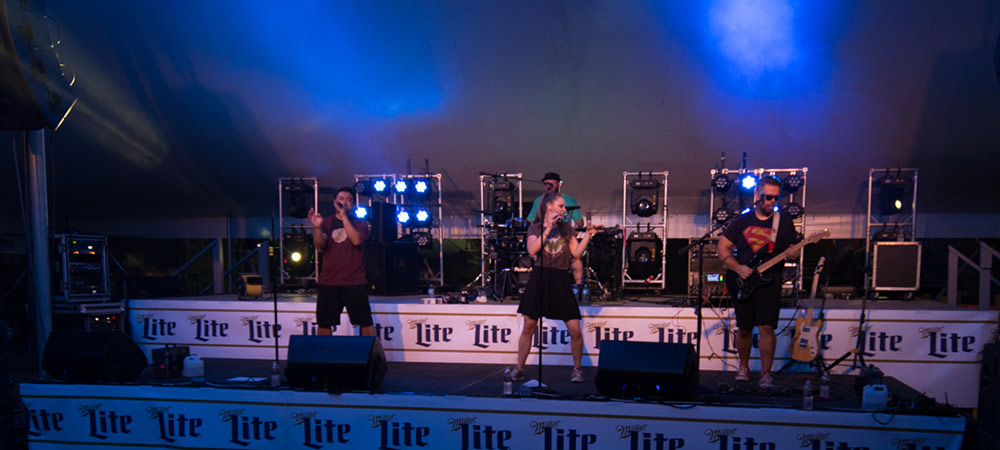 Things are settling down in the Springfield metro.
The Illinois State Fair has come and gone, another year of corn dogs, carnival rides and a divisive line up of Grandstand entertainment. It's late August and kids are back in school, Halloween decorations are up at Walgreen's and most area residents are bracing themselves for the imminent aerial assault of colorful leaves.
Illinois State Fair Beer Tents
Fun DMC made three appearances at the 2018 Illinois State Fair, two nights at the Miller Lite tent and a final night at the Coors Light tent. Each night was a new opportunity to meet new fans and perform our hearts out for our long time friends. Perhaps one of the most memorable moments of the week was on Wednesday night when the band celebrated Talon Holmes' birthday on stage with a hula hoop and a surprise pie to the face by Smashtag drummer Samuel Smith. By Saturday night the band was wore out from multiple shows in a short time span but that didn't stop them from delivering a high energy performance to a packed Coors Light tent. If consistency is the key to greatness then the wonderful folks at the Coors tent witnessed a truly great band on Saturday night.
First Christian Church, Decatur IL
And then there was Sunday. We were once again invited to perform at First Christian Church in Decatur, Illinois for their community outreach event. Following a long, hot week at the fair it was a beautiful summer evening spent with an audience comfortably enjoying the band while children ran to and fro from bounce house to bounce house in the distance. We were well taken care of and it's always nice to see our hosts going the extra mile to provide a gluten free pizza for our celiac celebrity singer, Katey Kamerad. In an unusual turn of events, as most members of the band have spent their time playing music at church and various youth events and camps, the band sporadically treated the audience to a performance of the well known worship song, "I Am Free."
This Friday night you can find the band making their long awaited return to the Crow's Mill Pub at 6:30 P.M. On Sunday, members from the band will be at the Elegant Bridal Expo.