Midwest Cross Country Racing Ghost Town Throw Down
Posted by Robert Reynolds on August 15th 2018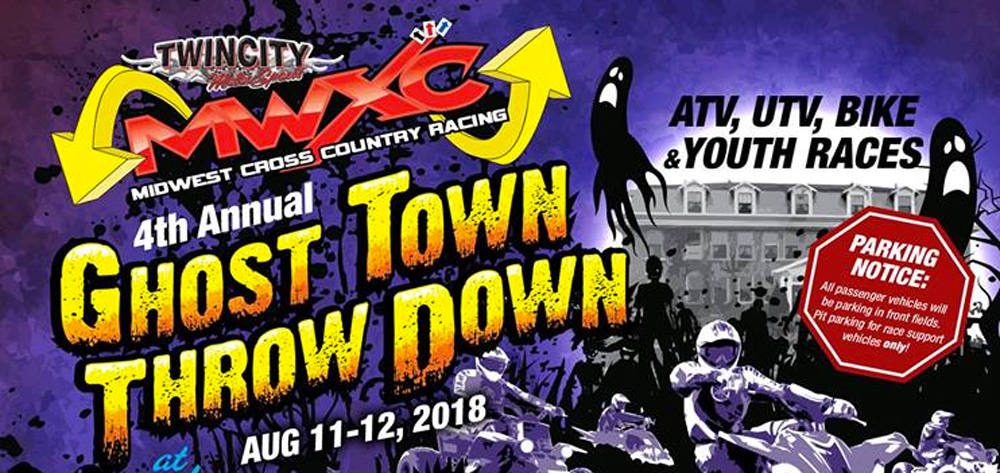 On Saturday afternoon, the clan DMC pointed Big Red (their affectionate name for Talon's jeep) east and drove for an undetermined amount of time and distance until they arrived at a left turn prompting them to turn through a small gate onto a dirt road outside of Rockville, Indiana.  Upon arrival, they received instructions to "make a left at the broken down Bronco" and proceed until they come to a structure where their point of contact would be waiting. It was a culture unlike anything we had encountered before.
The Midwest Cross Country Racings Ghost Town Throw Down is an annual event of dirt bike and ATV enthusiasts who gather on the property of the abandoned Indiana State Tuberculosis Asylum to camp out for the weekend. For acres upon acres, campers and RVs spread across rolling hills and around abandoned buildings, the constant hum of generators ever present at every turn. Fun DMC set up on a 5 foot high concrete platform, most likely the site of a foundation of a long demolished building. About 10 feet behind this location sat a parked John Deere tractor whose trans-axle was connected to an alternator serving as the band's power source.
Following set up and sound check, the band made their way through the many camp sites and abandoned buildings, eventually arriving at the site of our host for dinner. As the sun faded into obscurity behind the Indiana treeline, the band took the stage for a growing crowd that was assembling in a dark field. We would later learn that there was some confusion as to who was on the ticket for the evening. Initially there was some apprehension among the crowd when they realized we were not famed Illinois rockers X-Crush. That said, it took about 2 songs for us to eventually win over the curiosity seekers and by the time we reached set 2 we had completely won over the crowd that was mostly invisible to us in the darkness. They continued to gather and Fun DMC continued to sing and perform to several hundred campers and several million bugs attracted to the only light source for miles. The band wrapped their show, pushed our equipment into the back of the trailer and powered down the John Deere tractor until the last of our lights were lost in the night.
Silence.
Darkness.
I looked up into the Indiana night sky and realized that it was awash in starlight. You don't often see stars like this living within the city limits. And with that, Big Red slid into drive and we slowly rolled through the darkness and braced for a long night on the road.
This week you can find Fun DMC at the Illinois State Fair and First Christian Church of Decatur.