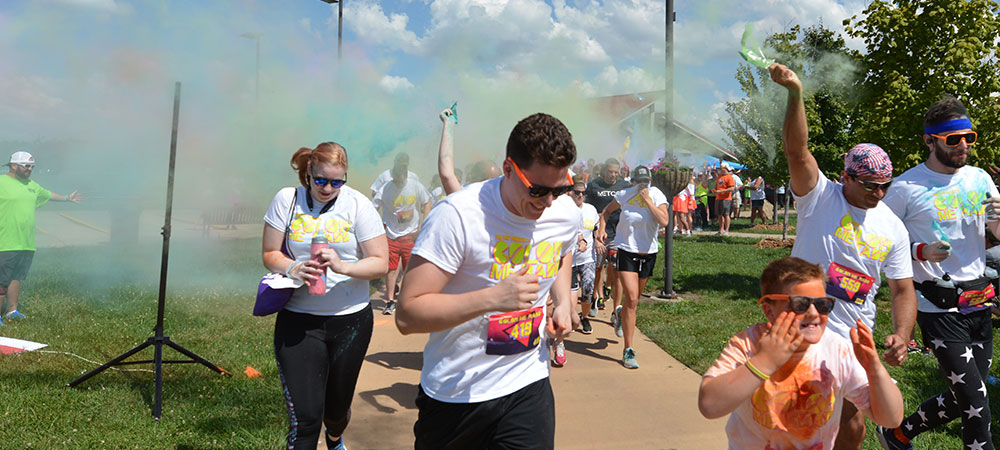 Consider for a moment, if you will, every encounter you will have with a human being today, from the barista who pours your coffee to the text message from your closest friend. We are relational creatures indeed, moreso than most most living organisms on this planet. We crave community, friendship, and love. We encounter one another like passing ships in the night, often leaving an indelible mark. Tracing back the roots of relationships will often yield a complex circuitry of circumstances of which, had not a very particular series of events come together, might never have occurred. I found myself analyzing the inner-workings of a circuit of circumstances during the final Color Me Radd meeting with Aaron, Sharon, and Alison at the Caribou on MacArthur.
Six months prior, I don't think I could have envisioned myself as part of the planning team for a 5K event, making arrangements for donations, mapping out logistics, and trying to cover each and every last detail before race day. And so my mind went back to a cold and gray October morning, the kind of morning where you question whether or not you will even have a fall this year. I entered the Horace Mann building prepared to meet the head of the Digital Team and my potential supervisor should the interview go well. That person was Rebecca Johnston. Suffice it to say I was hired and started my new job at Horace Mann about 4 weeks later. Rebecca, as I would later find out, was the lifeline for insurance agents struggling to adapt their business to the world of social media. She sat across the aisle from me and I was impressed by her patience as she would spend sometimes upwards of an hour on the phone with agents, explaining everything to them from basic computer skills to why it might not be in the company's best interest for them to make a political statement on their social media page. The day Rebecca moved on from Horace Mann was a truly sad day for our team and she is missed by everyone who worked with her. To this day I still have agents who ask for her by name. In her absence I have tried my best to live up to the patient demeanor she probably didn't realize she was teaching me as I have taken over much of her agent support role.
Then I was added to a Facebook group. Many of us were. It was a private group of Rebecca's closest friends and family. At the top of the page there was a pinned post where Rebecca informed us of her recent diagnosis of an autoimmune disease, how it was potentially terminal, how she needed a liver transplant, and of course how much she loved her boys. Needless to say there was quite a bit of shock surrounding the announcement followed by a deep sadness at the thought of a young mother possibly leaving her husband and two sons behind. The post was quickly followed by a variety of questions ranging from prayerful sentiments to inquiries as to how we could help. Beyond being a biological match as a potential living liver donor however, I wasn't sure where to begin. Enter Alison Hornback.
Rebecca's sister, Alison, reached out to Aaron Stanley and I sometime midsummer. Fortunately for Rebecca, she is both determined and feisty, the perfect combination that make up a person who doesn't take adversity lying down. If Rebecca was to find a living donor there were sure to be a great deal of expenses incurred, particularly for the donor. And so Alison contacted us asking if there was anything Fun DMC could do to help. I think I said something like, "Race For Rebecca" (I know, lame) and then eventually the words "color run" came up and eventually "Color Me Radd." Color Me Radd would be an '80s themed color run event complete with a live band, food trucks, and other activities. For the next several months, Alison, Aaron, myself, and Rebecca's mother, Sharon, divided up responsibilities making arrangements with food trucks, water donations, banana donations, event insurance, posters, promotion, t-shirt printing, and making arrangements for media assistance. And so, race day finally arrived.
As I arrived at Southwind Park lot I could already sense that the energy was high. There were race packets being frantically handed out, runners of all ages in '80s attire and tutus lining up, the folks from the Gift Of Hope on site with information on organ donation, and a clear sky with a late summer sun burning up the sidewalk route below. We had anticipate at most 150 participants but as race time drew near that number exceeded 200. Before the race began, Rebecca, not one who ever craves the limelight, made her way to a microphone to read a very heartfelt and personal message to the runners. As she did I considered for a moment just how I arrived at this place. Somehow the circumstances of my life had lead me from interviewee for a potential job to being part of a team that was literally trying to save someone's life. We had gone from professional handshake to a sweaty hug in the span of 18 months. A chance encounter and a career change landed me at ground zero in an effort to positively impact the trajectory of another human being. This probably happens on a daily basis. Human contact occurs and our lives our potentially changed forever. Your kindness or lack thereof is deeply felt and carried. As your coffee is handed to you from across the counter today you might consider what indelible mark you are leaving as you walk away.