What is Color Me Radd?
Posted by Fun DMC on August 24th 2018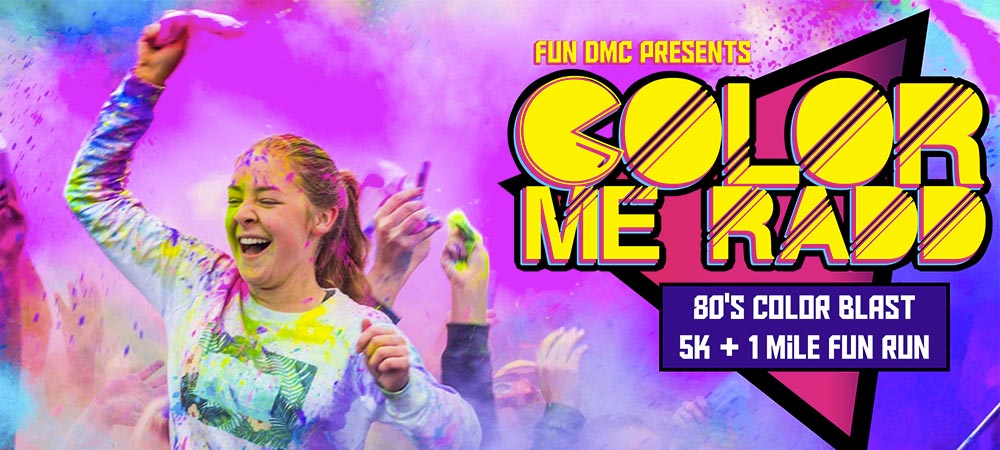 If you've been on our social media pages in the last six weeks, you'll have seen us plugging away at an event called Color Me Radd.
What is Color Me Radd?
On September 16, Fun DMC is presenting our first ever 80s themed color blast 5k/1 mile event.  As far as we know, this is unprecedented for a local band, and yet, like every other moonshot we take on, it seemed to make sense for us.
It all started when Robert and I were approached by the family of a good friend and former coworker who was diagnosed with a serious genetic liver disease that was going to require a transplant.  As with any medical scenario, it's bound to get pricy incredibly quickly.  We were asked about getting Fun DMC involved in a fundraiser for her and while our schedule was already beyond full at that point, we decided to plan something a little bit more flamboyant (as is our way).
There are very few (if any) color runs happening in Central IL anymore but we've priced it to be at or lower than the cost of most themed runs in the area anyway. We've also set it up to be something the whole family can do together. Add in food trucks, Fun DMC at the afterparty, and a super sweet cassette finisher medal, and it sounds like a pretty legit Sunday afternoon.
So far, we've got 3 weeks to go and registrations keep pouring in, so chances are good that unless the day-of event is a disaster, we'll be expanding this into next year.
Anyway, check out the website and get involved.  Added bonus – 100% of the proceeds go to a good friend who is super sick, so you also get to know your registration is going towards a great cause.