Tyler Landess
Posted by Fun DMC on September 1st 2018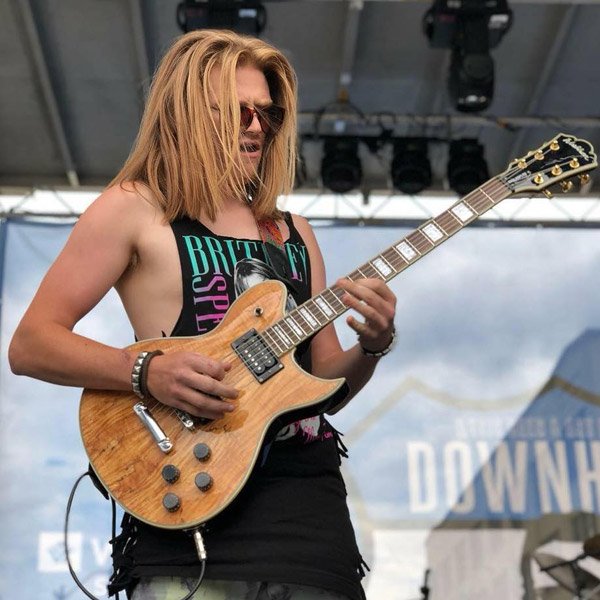 Name: Tyler Landess
Band: Lick Creek Country Band, M.A.S., Enamel
What guitarists inspire you?
First and foremost Jimi Hendrix… Then in no particular order Jeff Beck, Jerry Garcia, Paul Gilbert, Kirk Hammett, Buckethead, Frank Zappa, B.B. King, Stevie Ray Vaughan, Tom Morello, Joe Satriani, Adam Jones, John Mayer and Prince to name a few. If you have enough voices you eventually find your own.
What song has challenged you the most?
Through the Fire and Flames on expert…jk um probably playing the Skwisgaar lead for The Duel from the Doomstar Requiem Klok Opera Metalocalypse Special (Nerd Alert) it's extremely technical and took a lot of grinding!
What's your favorite song to play in your current band's set?
I'd be lying if I didn't say Voodoo Child
What's the most overplayed song?
On the radio Ed Sheeran -Perfect… Or Sweet Child o mine…. Idk
What's the most memorable thing that happened to you at a gig?
Ooh I'd say it's usually what happens after the gigs that is memorable but this one time at the Curve my band M.A.S. played Killing in the Name and I got to play Sam Ganci's drum kit while he rocked on my rig!
What was your first guitar pedal?
A do it all Digitech RP350 that I currently run in my FX loop on my amp. My first stomp box was a Boss Blues Driver.
What's your current rig?
I have a Bugera 1990 (models JCM 900) from 2009 paired with a 2×12 cab loaded with a Vintage 30 and g12 75. My first guitar a Squire Strat standard that I call Izabella and that I custom redid so it sounds way more Fender than a Squire. A Epiphone Explorer "Thunderhorse" and my main axe is a Washburn les paul~style that has the prettiest spalted maple top. My pedal chain from guitar to amp, Dunlop RotoVibe, Boss Blues Driver, Boss DD-5, Dunlop Jimi Hendrix Mini Fuzz Face, tuner, Dunlop Cry Baby Wah. Like I said, the Digitech RP350 runs in my FX loop on the back panel of my Bugera.
How long would it take for you to learn Van Halen's Eruption?
30min to an hour depending on how confident I feel. I used to know a lot of it when I was 16 but I haven't looked at it in forever. The song is pretty short so I could see myself learning it in 15min and then perfecting in the last 15min.